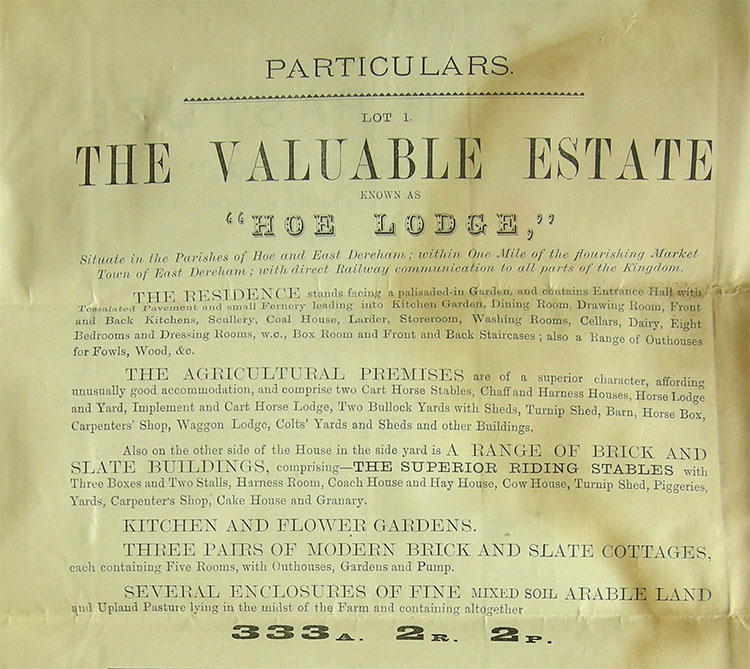 Hoe Lodge was for sale in July 1890 following the death of Azariah Waters, who had farmed there since the 1850s.




The sale plan shows the house, in red, with the farm buildings around it, and the railway close by.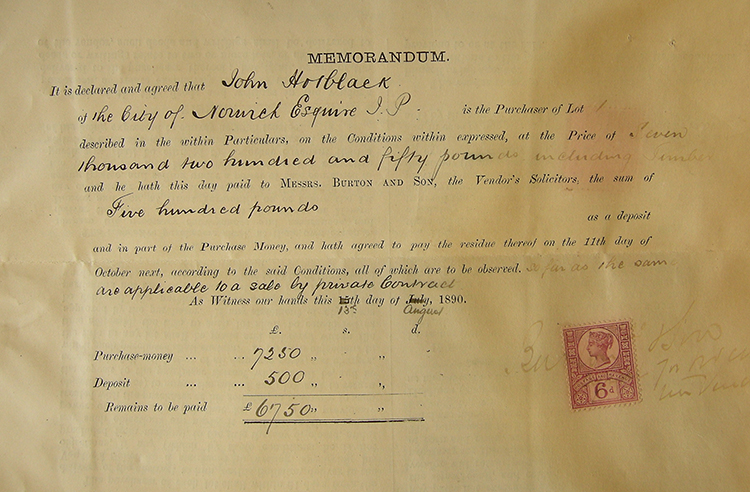 John Hotblack JP, Mayor of Norwich in 1884, bought the estate for £7250.

[Courtesy of Norfolk Record Office BR 379/Hood, Vores & Allwood, 14/03/1980/Box 39]
---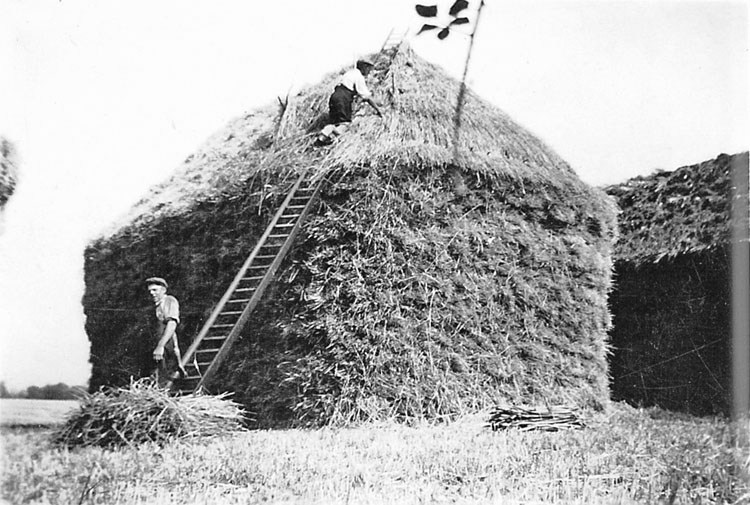 Thatching a stack at Hoe Lodge farm. Early 1920s. The man on the ground is Walter Herbert Wicks and the thatcher is his father, Herbert Lance Wicks.


---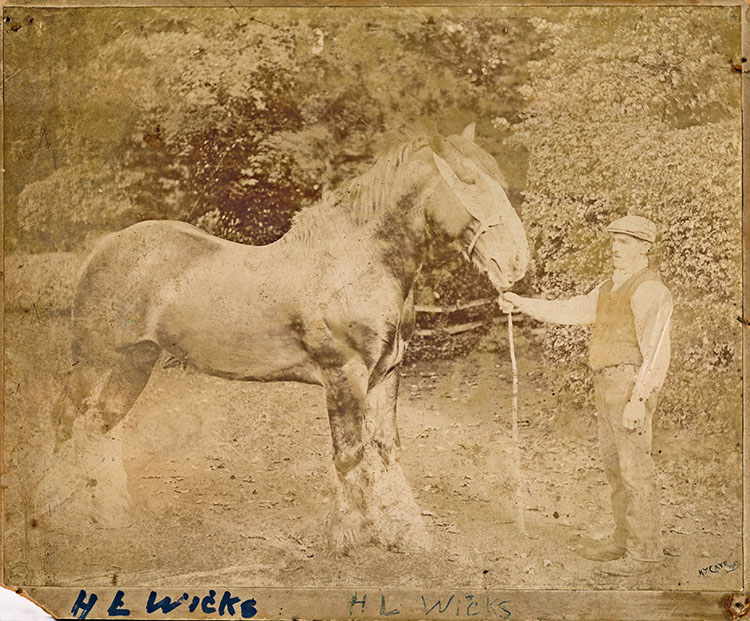 Herbert Lance Wicks photographed in 1903 by Cave of Dereham. The picture was almost certainly intended as a portrait of the horse! Herbert worked at Hoe Lodge and at Quebec Hall farm and the location of this photograph is not known.


---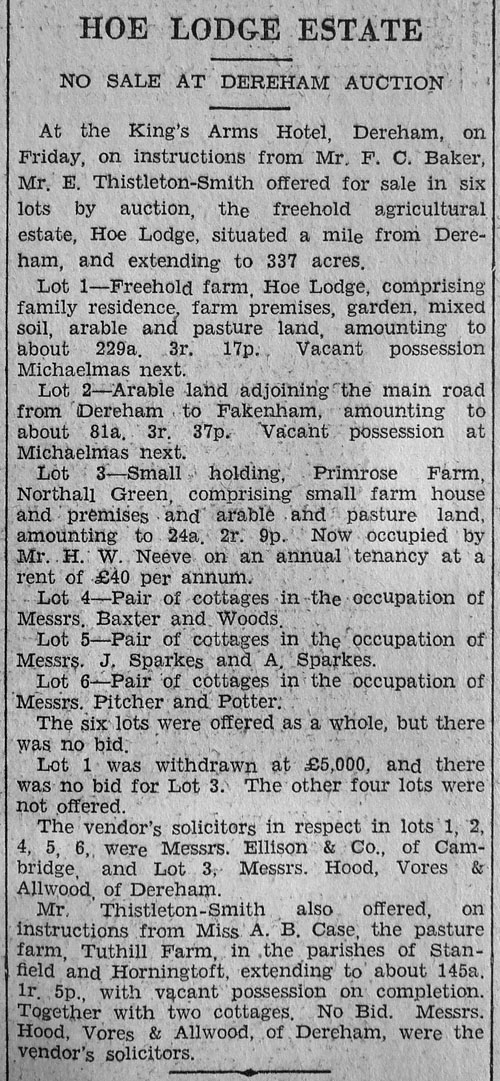 The 'thirties were a bad time for agriculture. In July 1937
Hoe Lodge failed to sell.





















































---


Threshing at Hoe Lodge, 1946. Second from the left may be Hubert Grout and top right is William Lown, farm steward at Manor Farm, Hoe. The men are probably from all the local farms. Fred Dann provided the threshing tackle.
---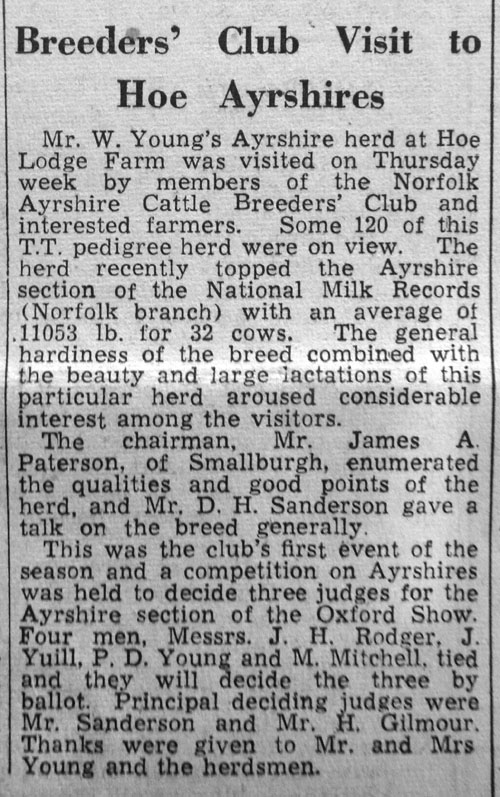 Mr and Mrs Young came from Scotland to buy Hoe
Lodge. Their Ayrshire cattle came by train to
Dereham station and were walked up Cemetery Road to
the farm. This report is from 1950.






































---
Mr and Mrs Young brought up five daughters here.
---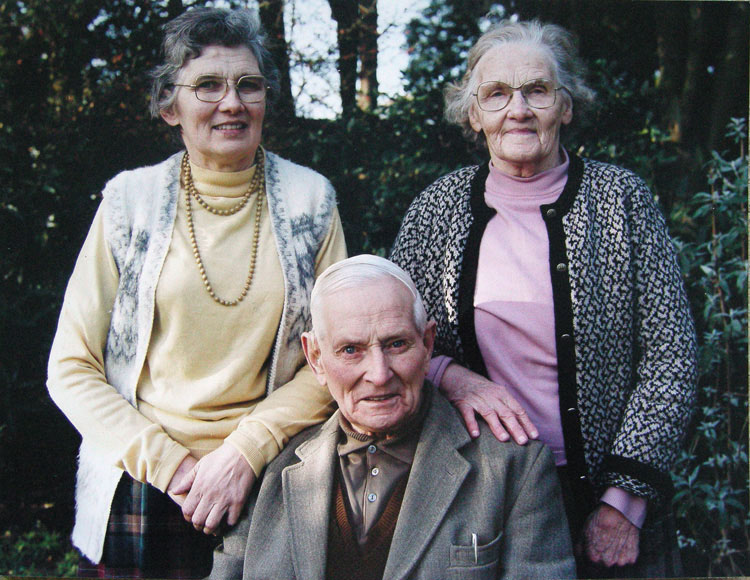 Mr and Mrs Young with their daughter Agnes.


---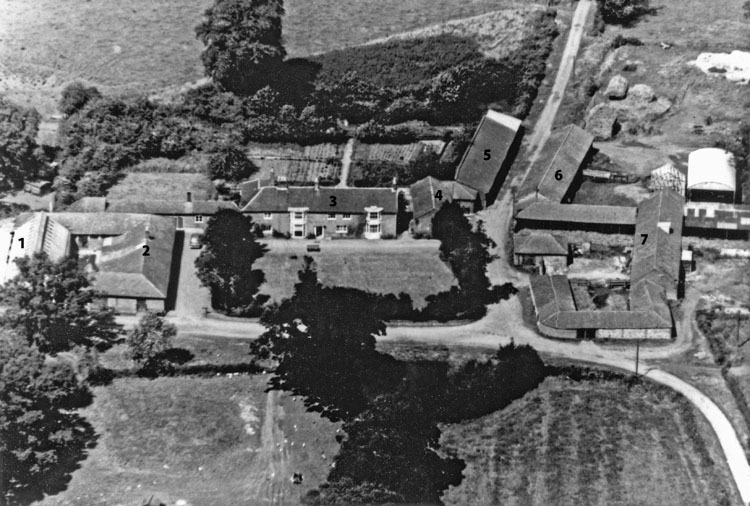 Hoe Lodge 1960s (?)
Agnes Young became a teacher. On the back of this aerial view of the farm she has written:
On the extreme left is the cowshed [1]
Across the yard from the cowshed the calves' boxes, potato house and garage [2].
In the centre is the house [3]. My bedroom is the right-hand upstairs bay window.
Then a few calves' boxes [4].
Cartshed [5] on the left of the road and straight across from that, the stable [6] in which Mummy keeps the chickens.
The rest is just yards and in the middle, the barn [7].
Agnes adds for her friend 'If you look carefully you can see I have numbered the places on the photograph - hold it slantwise.' And, indeed, on the original photograph are little numbers pressed into the paper with a pencil.

---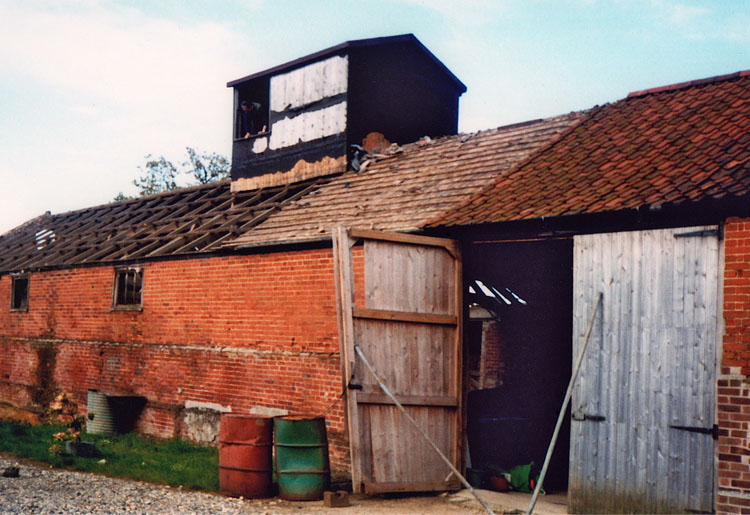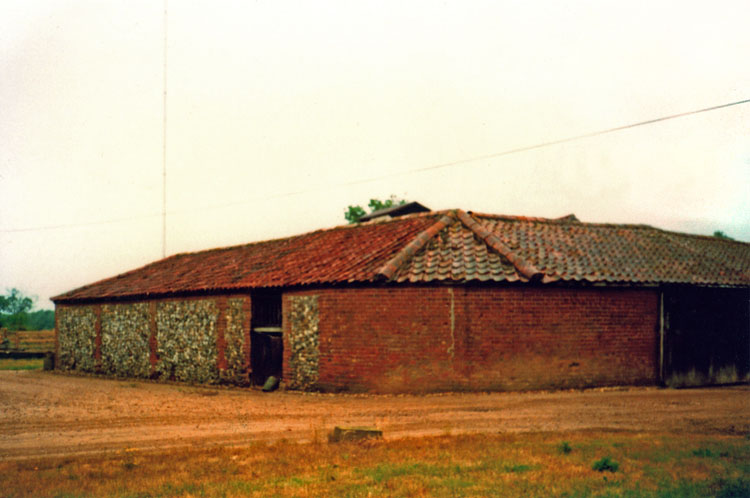 Gerald and Sally Kerry made their home from the buildings in 1997 and farm the land.




---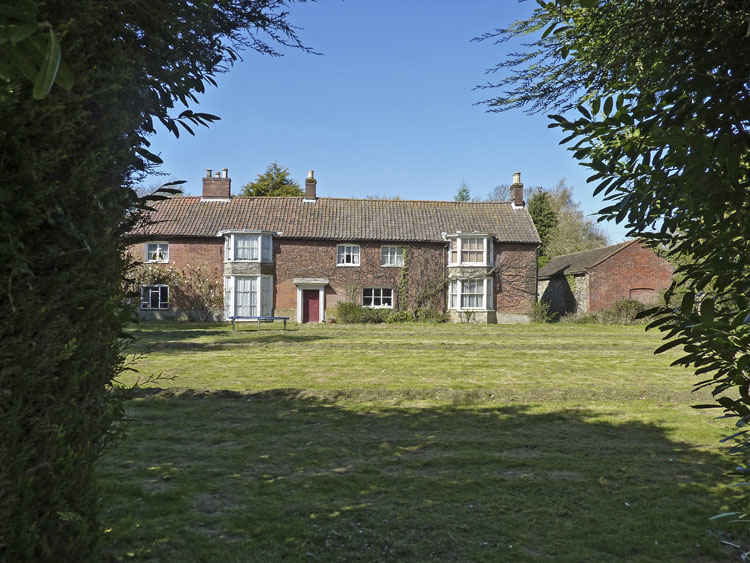 The farmhouse in 2010.


---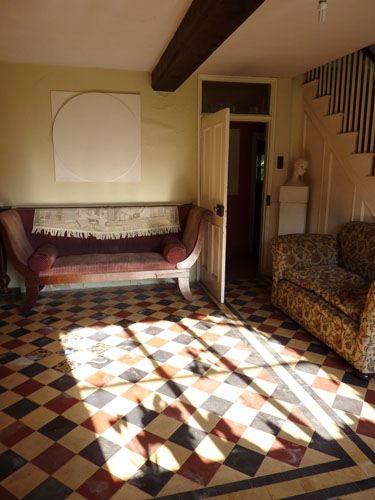 Inside the house in 2010. It retains many original features.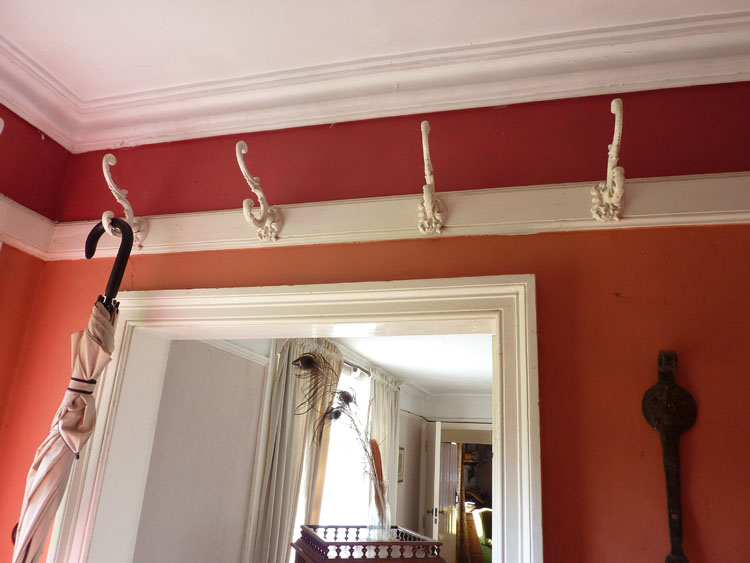 Hooks which must be for hats.


The kitchen.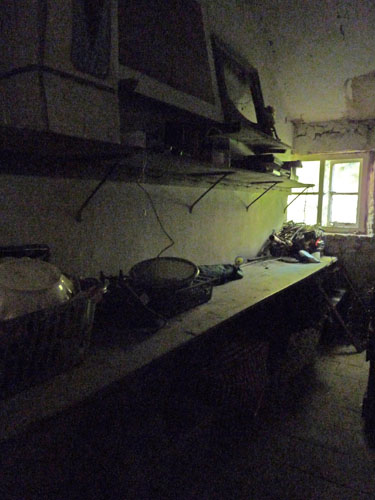 An old pantry.


The house was eventually sold separate from the farm land
and lived in by Brian and Barbara Upton. Brian had a studio
for painting and Barbara had a pottery in an outbuilding.



























A stall in one of the stables.


---