This spectacular and rare helmet is made from a sheet of gilded and beaten copper alloy. It dates from the early 3rd century AD, possibly coming from the Danube Valley in Central Europe.
The ornate decoration features an eagle's head whose beak forms the crest. Sea dragons are depicted on either side with curling bodies and three-pronged tails.
The helmet would have had limited defensive capabilities and would more likely have been used on the parade ground rather than the battlefield.
NWHCM: 1947.152 © Norfolk Museums Service
---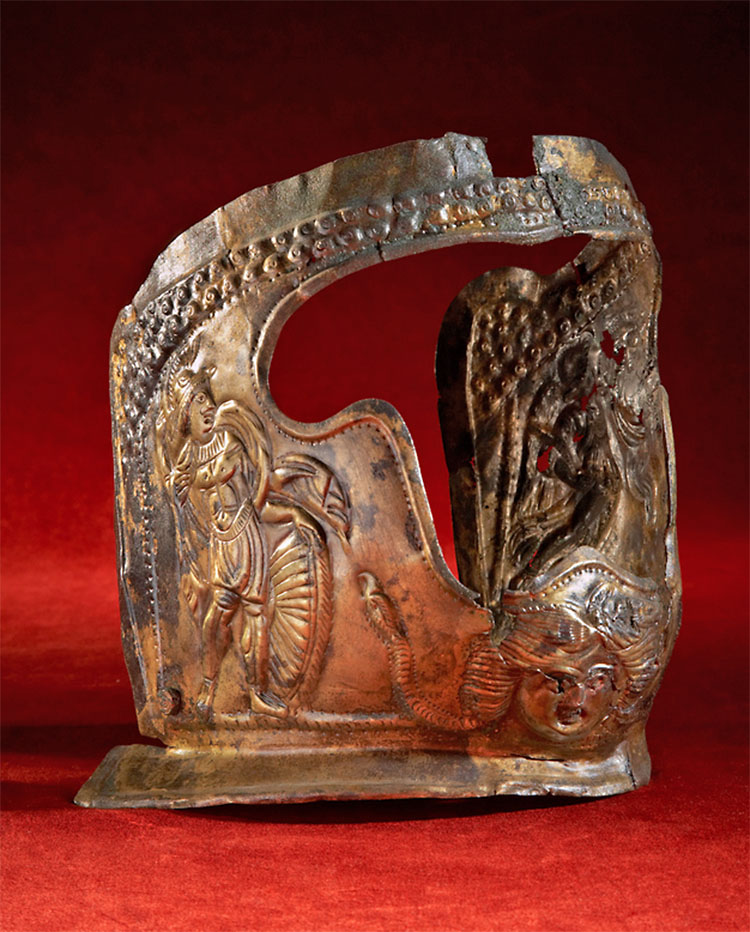 Roman gilding-metal visor mask from a cavalry parade, or sports, helmet, 3rd century AD, made from sheet metal with repoussé decoration. O
n the right side,
Mars is shown holding a shield,
on the left side,
a winged Victory holding up a wreath. O
n the chin guard
there is the head of Medusa with snakes to either side and,
around the top,
bands of embossed ring-and-dot decoration. At the bottom
there is a neck flange
with a small rim.
NWHCM: 1950.205 © Norfolk Museums Service
---
How the helmet was found
Frederick and Rosa
(née Middleton)
Rivett owned Riverside Farm
on Swanton Morley Road and built the bungalow Hillside
for their daughter Lucy. The Rivetts also had a son Henry, the father of Sue Syrett. It was Sue who provided the names of the cousins who had been at Riverside Farm when the helmet was found in August 1947. One was Clare Russell, who remembers that she was about nine years old at the time. The children spent many hours at the farm and watched the dredgers working in the river with great interest, gathering up any artefact, however small. She remembers the helmet coming out of the river hanging on the hooks of the dredger bucket. They had no idea what it was but played with it, running about in the farmyard wearing it. Rosa thought it warranted further explanation and contacted the Castle Museum, Norwich, who sent an expert to look at it. Wanting the helmet to stay in Norfolk,
Rosa
declined all offers of purchase and very generously donated it to the Castle Museum.
In November 1950 further dredging brought to light the visor from the helmet. Rosa immediately realised its connection with the earlier find and generously donated it to the Museum as well.
The river also yielded up some Roman iron shackles including a barrel lock, as well as oak piles which may have formed part of a bridge.
---