Contents
Crime
Sport
Road accidents
Housing
Lord of the manor
Home Guard
Bad weather
School
Phantom crash
Tree planting
Pillbox
Letterbox
Crime
Advertisement from the Bury &
Norwich Post, 29 June 1814 – the
reward of a guinea would then have
been equivalent to about three week's
wages for a farm labourer.











Betty's 'annual frolic', June 1886.




Cruelty to a colt, February 1892.




Failure to abate a nuisance, December 1895.





Poaching was fairly common, September 1900.





---
Sport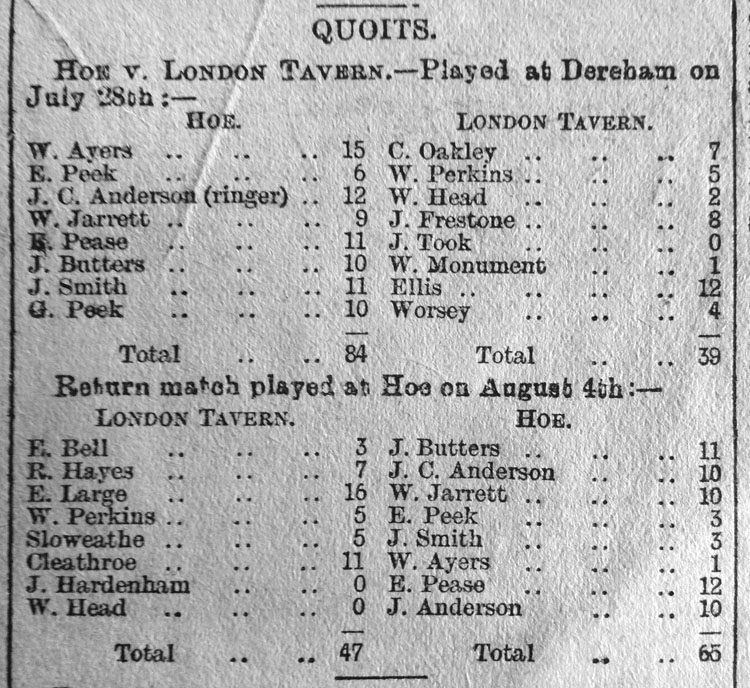 July and August 1900 – results of quoits matches between Hoe and the London Tavern, Baxter Row, Dereham. Hoe won both. Walter Ayers was the publican at the Angel, Hoe.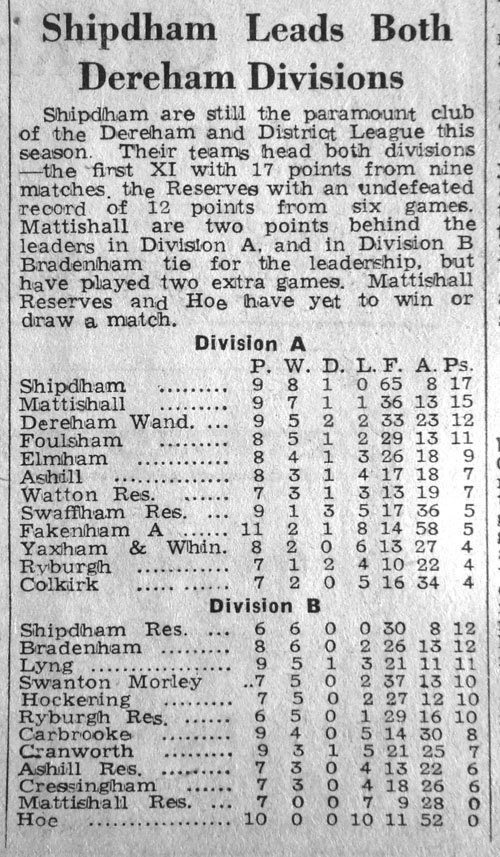 Hoe's footballers didn't have much
luck in 1953.

---
Road accidents




A petrol tanker fire in 1929. It appears to be on the main road at Brick Kiln farm.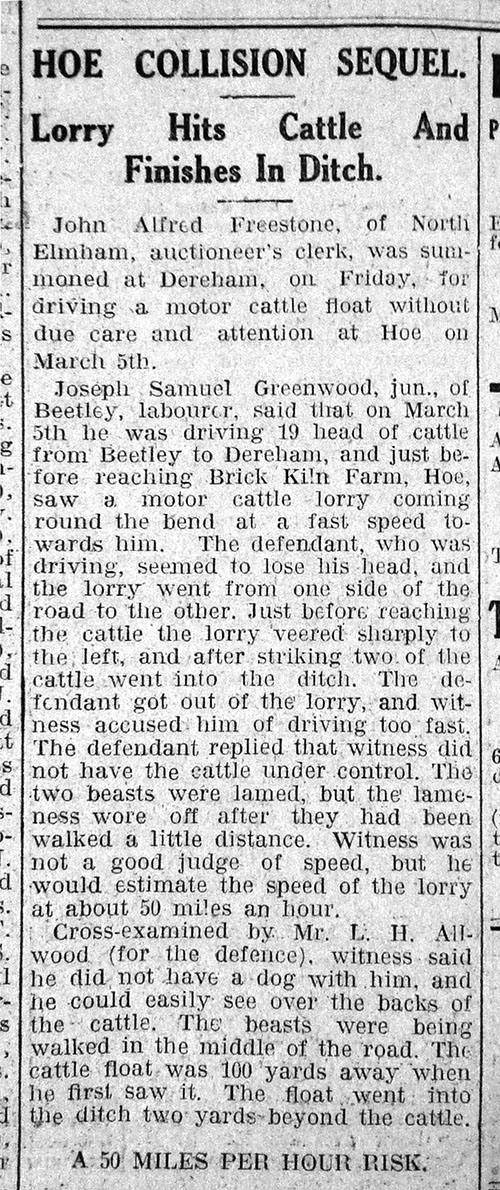 Nineteen head of cattle in the middle of
the road at Brick Kiln Farm!
March 1932.









































































---

Housing


An ambitious scheme from November 1944
which would have seen a suburb of Dereham
built in the countryside at Hoe.




































































---
Lord of the Manor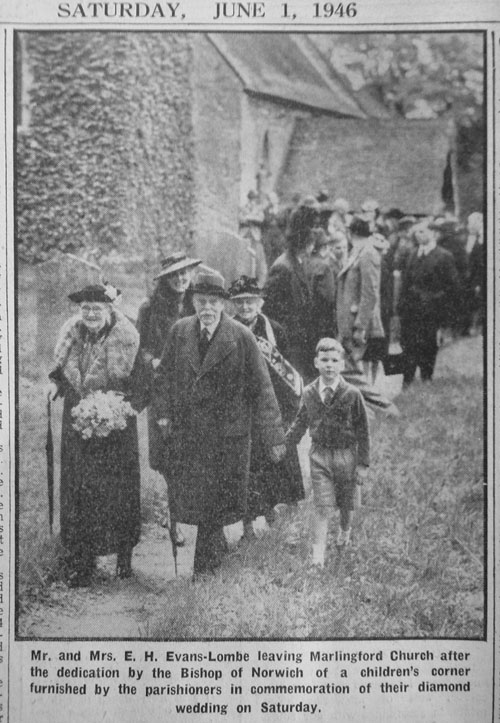 The Diamond Wedding of Mr and Mrs E H Evans-Lombe in 1946. The Evans-Lombes still hold the Manor of Hoe today;
Sir Edward is the current Lord.


---
Home Guard


This photo, given by Maurice Eglen, shows (from the left) his father, Albert, with Lennie Butters, Joe Banthorpe, and Sgt. Riches. Maurice thinks there were then ten men in the Hoe Home Guard. Alec Anderson was the despatch rider.

On the reverse: 'Farewell to our rifles! Nov 26 1944
Wishing you all a Happy New Year
V I Wood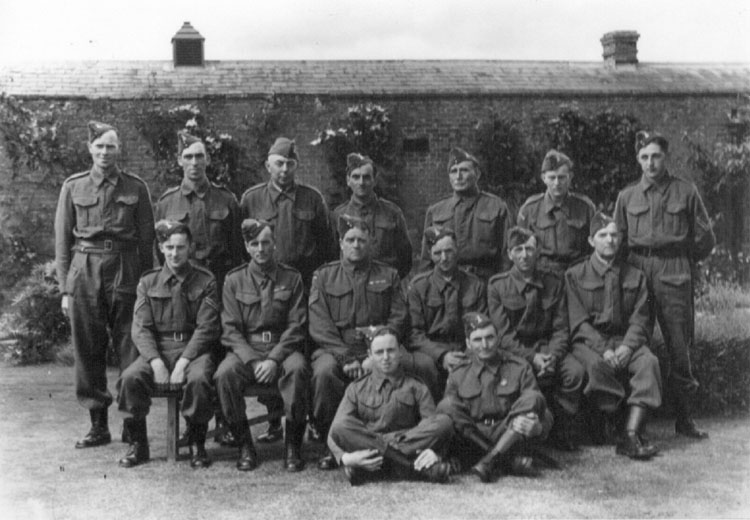 The Home Guard photographed at Hoe Hall. Most men have been identified –

(back row, from left)

Lennie Butters, Edward Butters, Bertie Holiday, C. Anderson, Jack Jarrett, R. Burton, [?]. (Middle row) Cecil Annis, Charlie Holmes. Sgt. Riches, Richard Fisher, [?], Dick Sparkes. (Front row) – Fisher, – Snowdon. The Home Guard practiced in the maze of trenches still visible on Hoe Common.


---
Bad weather


Revd Armstrong's diary for January 1st 1854 reads 'Drove to take the service at Hoe in a sleigh, the snow being too deep for wheels. Had some difficulty in getting through a drift where the horse was above his knees in snow. There were nineteen communicants, and I can hardly tell how they got through the snow to church.'

In November 1878 he wrote, 'We have had a week of incessant rain, day and night. In Hoe a railway bridge has been carried away.'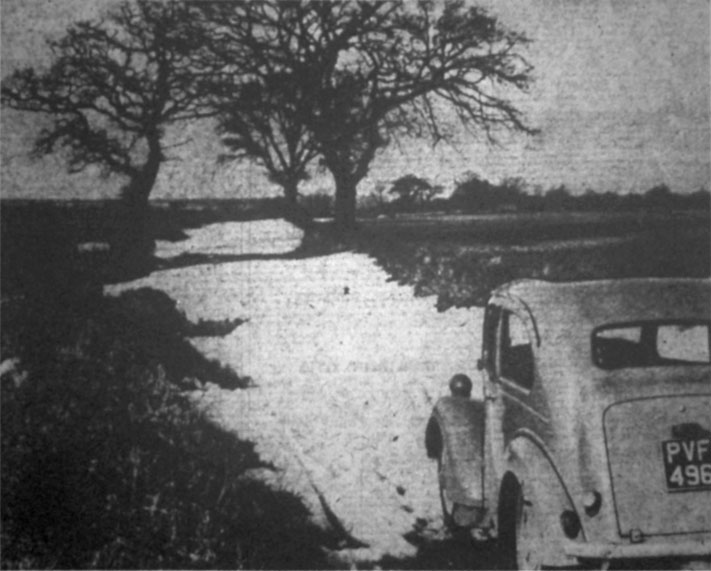 Press photos of blizzards in March 1958 and January 1959.

The text reads: 'A week after the blizzard, some minor roads in Mid-Norfolk were still impassable, with over a foot of snow covering them from hedge to hedge. Two of the roads into Hoe, for example, were still blocked on Tuesday even though three days of warm spring sunshine had caused an extensive thaw.'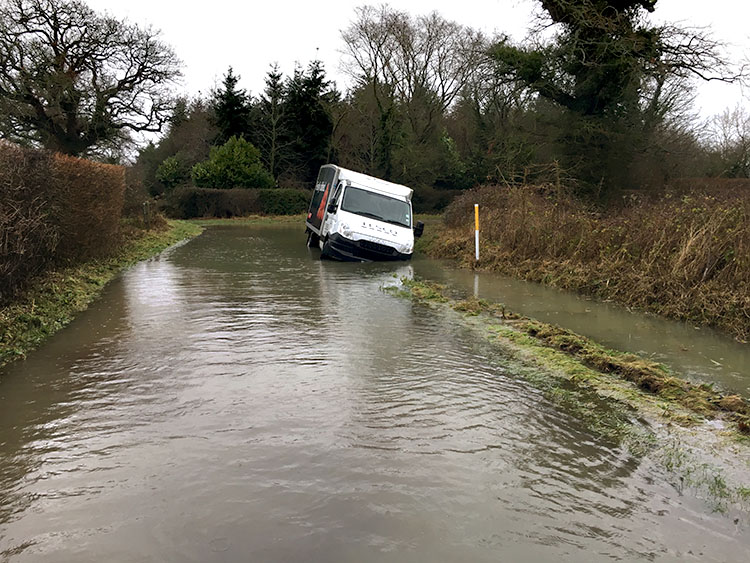 2017 Christmas deliveries were delayed. The culvert under the road at Tansy Pit corner couldn't cope with the amount of rain.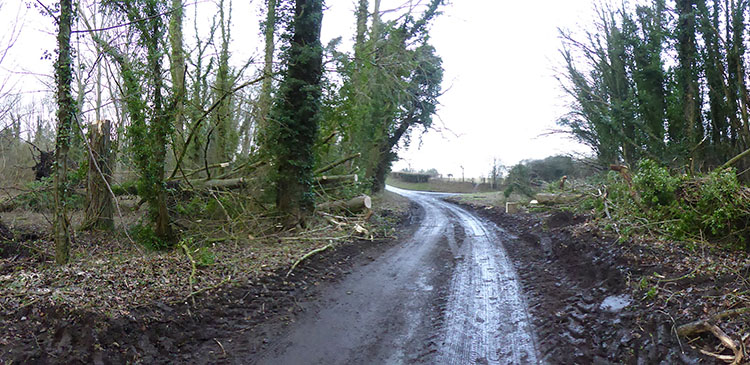 A gale in January 2018 brought down trees in many places, including these poplars whi

c

h blocked the road near Manor Farm pond. A big old oak fell across the road in Worthing.




Ayers Lane, 2nd March 2018. Soil blown from the fields dusting the snow drifts that lasted for nearly three weeks.


---
School




Without its own school, Hoe's children attended schools in Dereham or Swanton Morley.

Dereham's

National School stood on the corner of Theatre Street and Cemetery Road.

Revd Armstrong records that, in May 1856, Mr Norton, of Hoe, brought fourteen children of that parish to the National School, engaged a woman to collect them every morning, became a subscriber, and paid for them all for a month. This is the more encouraging when done in the face of the sneers of the farmers who oppose education.



Mr Norton was Samuel Norton, who was the tenant farmer at Manor Farm.





Norfolk joined the RSPB's Bird and Tree
Scheme in 1908. Swanton Morley won the
award three times in the 1930s, E. C. Keith was
manager of the school board and was present
at the events.






















































Doris Holmes (back row, sixth from left) was the daughter of Charles and Gertrude Holmes who lived at 14 Hoe. E. C. Keith stands at the right.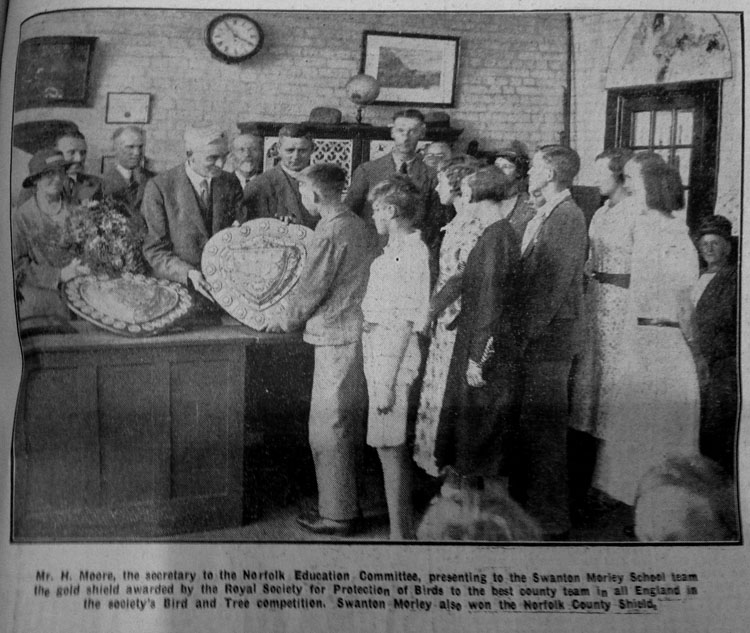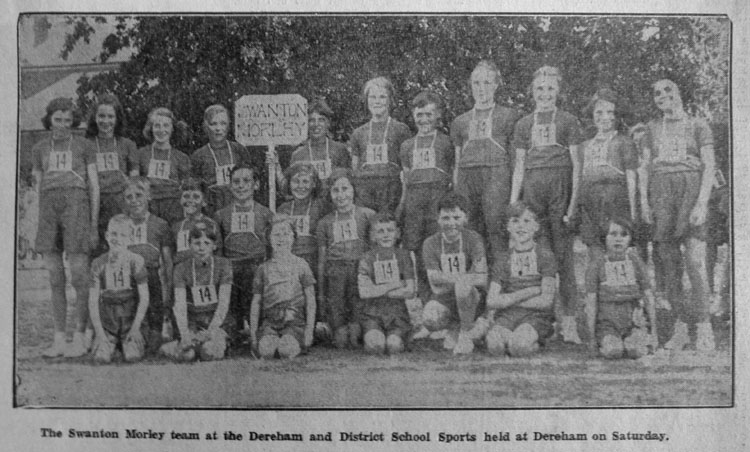 Swanton Morley School sports team, June 1939

– can you name anyone?


---
Phantom crash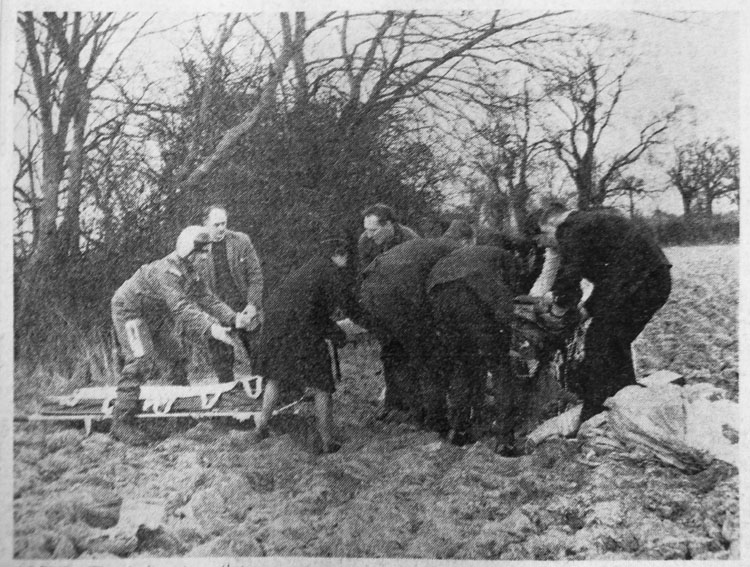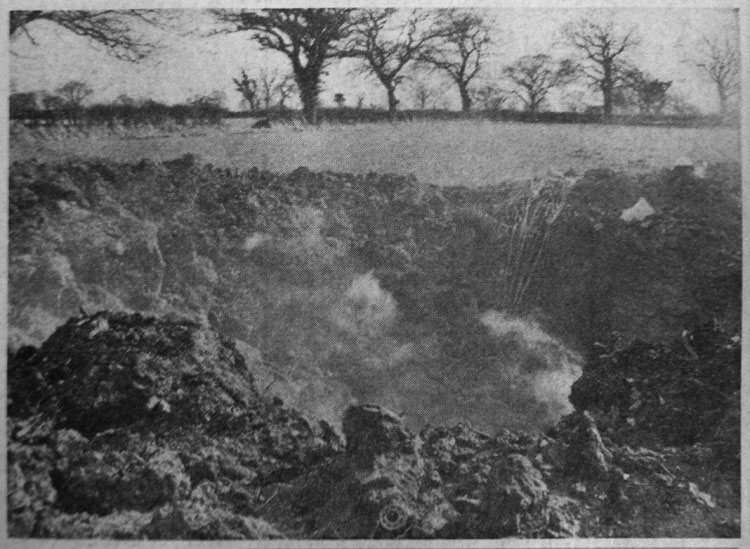 A USAF Phantom jet crashed in Hoe in March 1969. The field in which the plane crashed is still called Bentwaters after the aircraft's home base. Coincidentally, Philip Stroulger was one of the first to reach the scene – he biked from Dereham.


---
Tree planting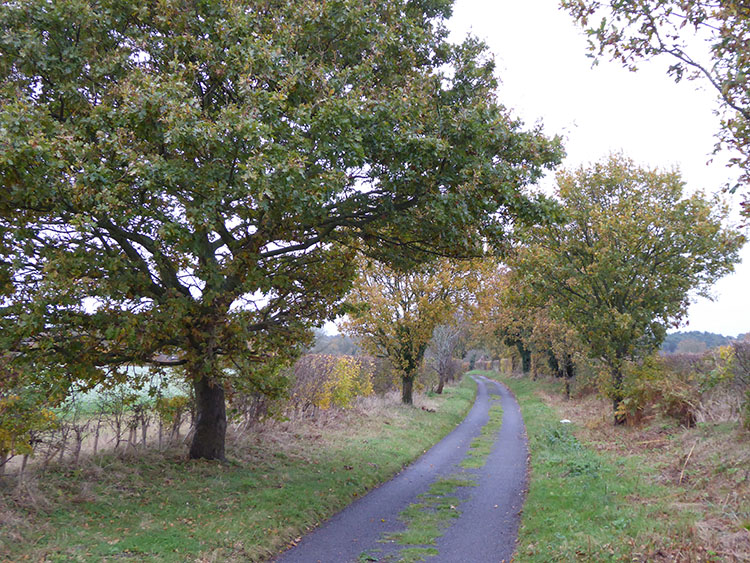 These ash and oak trees were planted in Ayers Lane in May 1985 by local volunteers. The young trees were provided by Norfolk County Council as part of a tree planting scheme. More were planted in Barkers lane. The 2014 outbreak of Chalara fraxinea is a threat to the ashes which they may not survive.


---
Pillbox


Further up Ayers lane, under the ivy, is a World War II type 22 concrete pillbox, probably from 1940. In the nearby field there was a searchlight battery associated with Swanton Morley airfield that it may have been built to defend.
For more details of this and other WWII installations see http://www.heritage.norfolk.gov.uk/record-details?MNF14242




The remains of the searchlight installation can be seen in this 1946 RAF aerial photograph, just to the left of the railway bridge.



[Copyright Norfolk County Council; photo by RAF 31 January 1946]






In March 2016 a group of air cadets from Dereham volunteered to uncover the pillbox. On a particularly bleak morning they got to work and very soon had the ivy and brambles cleared off and all the accumulated rubbish removed. A fantastic effort!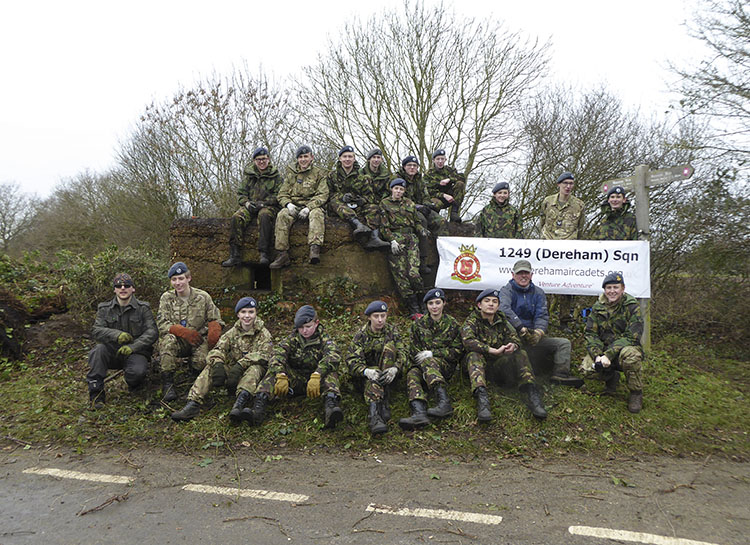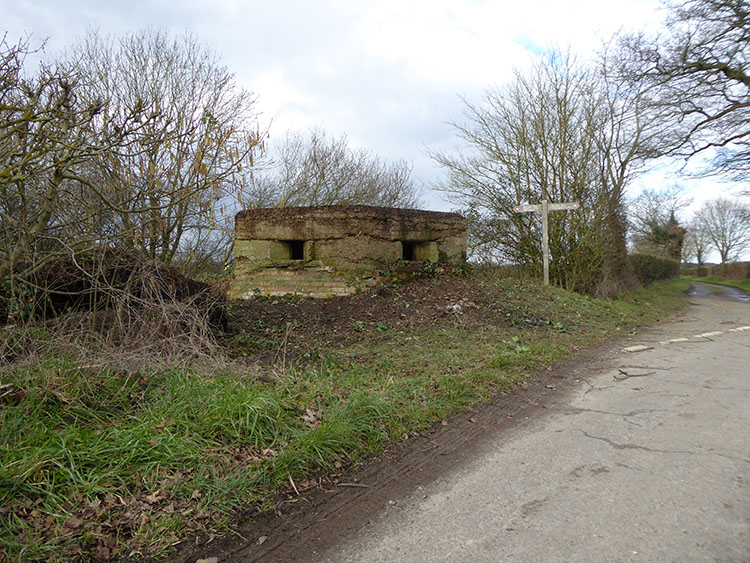 ---
Letterbox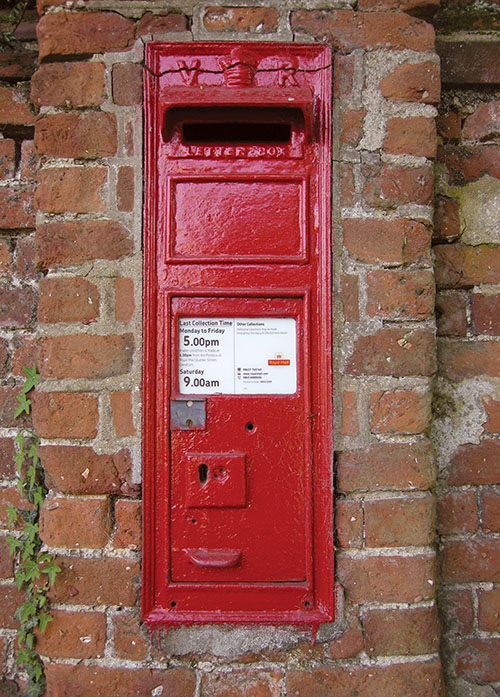 Hoe's Victorian letterbox was built into
the wall near the Parish Room. The
slot was so narrow that only the
smallest letter could be posted without
having to be bent. In February 2016 it
was stolen – Adam Flack discovered
the crime.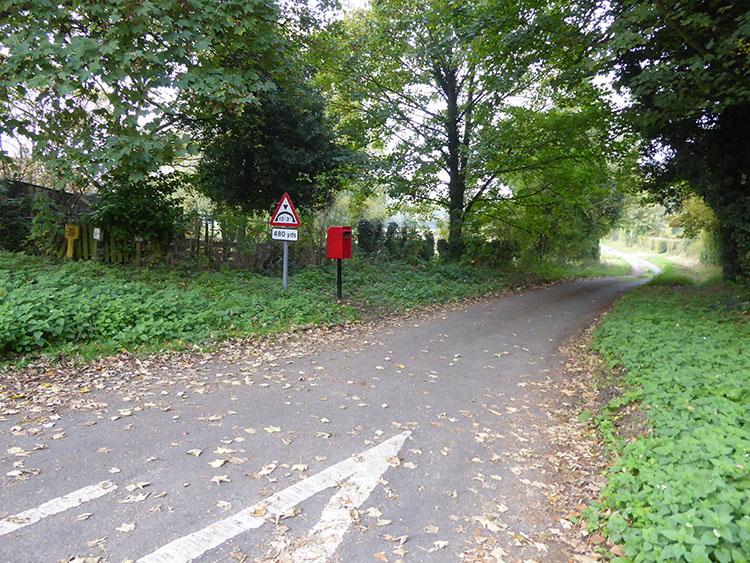 Eventually, in October 2016, a new box was installed, but not by the Hall. Royal Mail decided that the old site was not safe from passing traffic, there being no pavement or verge. No sign of a pavement here either, or anywhere else in the village, but this location just off Hall Road was thought quieter.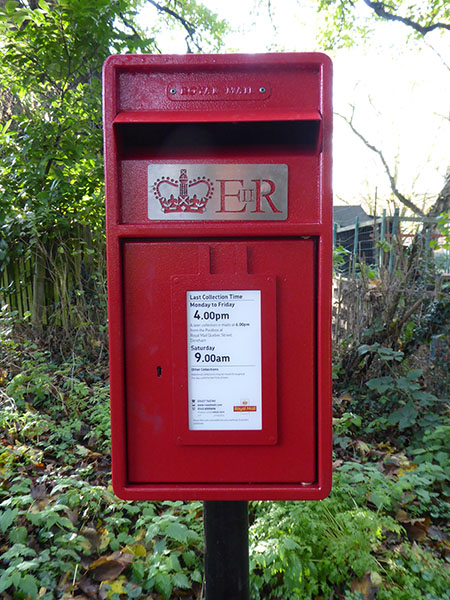 Functional, rather than attractive!





































---